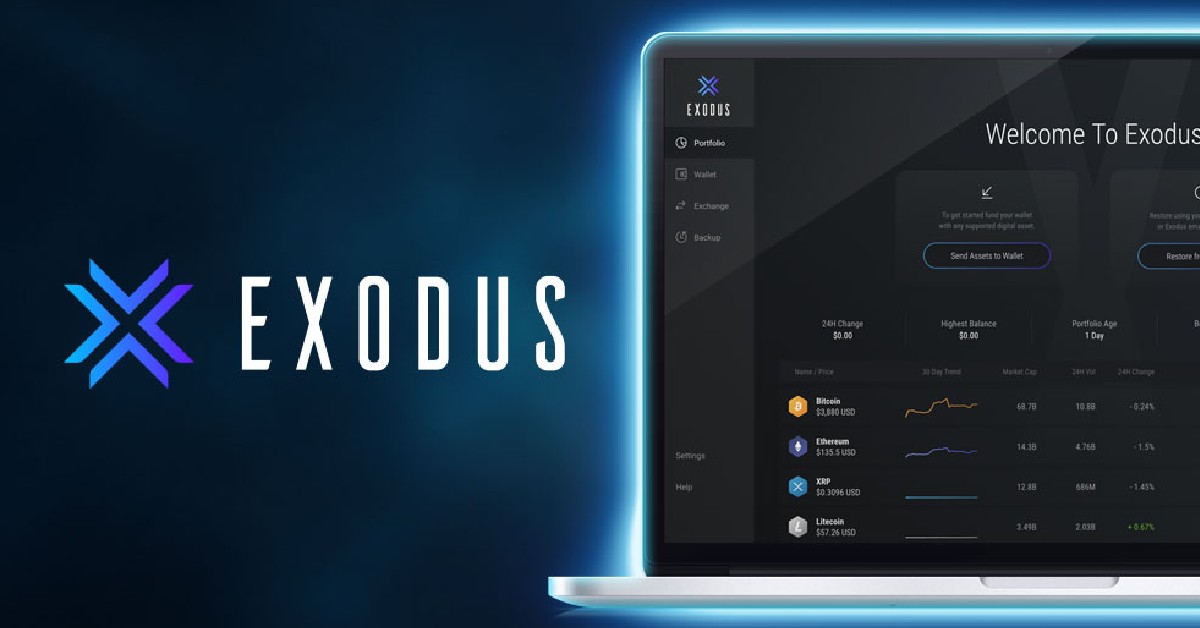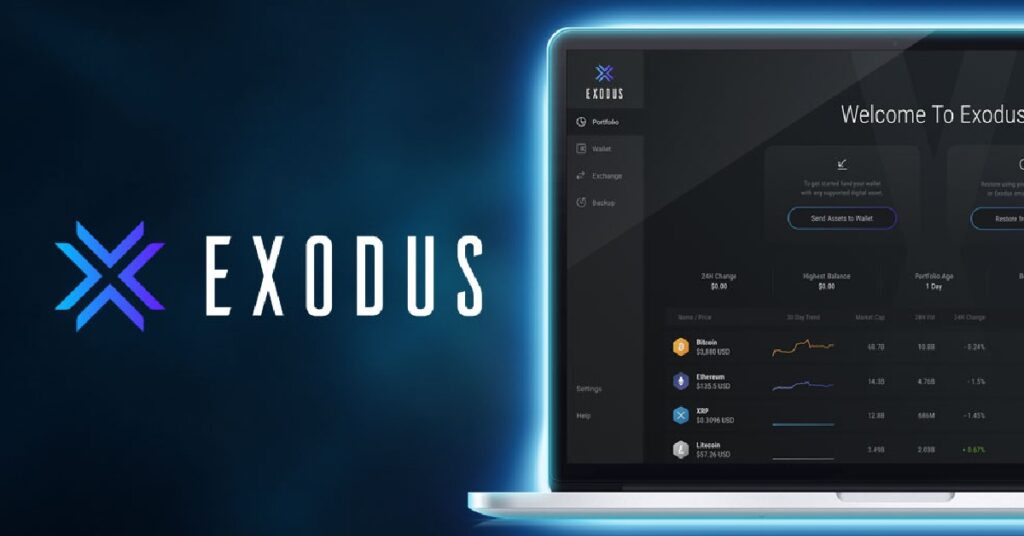 May 12, 2021
How to Set up An Exodus Crypto Wallet
Exodus is a software wallet designed to securely store your crypto assets. It has been taking the crypto world by storm and is one of our most highly ranked wallets. Could it be a good option for you? In this article, we explore the benefits of Exodus, and take you through a step-by-step guide to getting started. 
Once you make the decision to invest in cryptocurrencies, it can be hard to know where to start.
As a newbie, one of the first things you should do is set up a crypto wallet, in which you can safely store your new assets. The most common wallets you'll come across are custodial wallets, non-custodial wallets, and hardware wallets – a type of non-custodial wallet. Each type of wallet has its own pros and cons, with regard to convenience, security, and ease of use.
Hosted wallets are (as the name suggests) hosted online. These wallets are automatically created for you as soon as you set up an account on the site. This makes them very convenient and easy to use, but as they are hosted online, they are at risk of being targeted by hackers.
Hardware wallets come in the form of a physical device, such as a USB key. They offer you a means of storing your crypto stash offline, guaranteeing a high degree of security from hackers. As with any small physical object, however, you must be careful with a hardware wallet – ensure that it is kept safe at all times! Many hardware wallet users choose to store them in a safe, with the keys and passwords needed to access their contents in a separate safe location.
Software wallets are typically stored on an electronic device, such as a computer or phone. These wallets are very popular in the crypto community because they tend to be more secure than hosted wallets, but are not at risk of being mislaid, as physical hardware wallets can be. They can provide you with a comfortable middle ground between the instant availability of a hosted wallet and the greater security of a hardware wallet.
The Exodus wallet
This wallet is available free of charge as a desktop application for Linux, Windows, or Mac OS, or as a mobile app that can be found on Google's Play Store and Apple's AppStore. Exodus wallets have a number of security features that appeal to security-conscious crypto fans. These include two-factor authentication, a 12-word passphrase, an in-wallet lock feature, and an online backup. Exodus also supports over a hundred different crypto assets, so you will be spoiled for choice when it comes to diversifying your portfolio.
One important thing to note is that if you don't currently hold any crypto, you will need to acquire some because Exodus is a crypto-to-crypto platform that doesn't interact with the fiat currency system.
If you have decided that Exodus is the wallet for you, and you want to know how to set it up, look no further.
Using the mobile app
First things first: download the Exodus app. Search for 'Exodus' on Google Play or Apple's AppStore, or find a link on the Exodus' website.
The first time you open the mobile app, you will be guided through a short tutorial on how to use it. Once you have been taken through the tutorial, take the time to go through the backup process for your new wallet. The screenshots below illustrate how to do this.
During the backup process, you will receive a randomly generated twelve-word secret "recovery phrase" that functions as a master key to all of your assets. Think of it as both a username and a password, all in one. With these twelve words, you will be able to access your balance or transfer funds anywhere in the world at the press of a button. It will also allow you to access your wallet if you ever forget your password or lose access to your phone.
Write this secret phrase down on paper and store it safely in an offline physical location. We strongly recommend that you avoid storing the phrase digitally to keep it firmly out of reach of hackers!
One of the most popular features of the Exodus mobile app is its instant exchange feature. This allows you to securely and quickly exchange assets directly from your wallet, with no sign-up or account creation needed.
Using the desktop app
To get the correct Exodus desktop app, simply hit the 'download' button on Exodus' website, and choose the appropriate package for your computer's operating system (Linux, Windows or Mac OS). Once the package has finished downloading, open it. Follow the instructions that will appear on your screen to help you install the app. 
After the app has been successfully installed, open it up, and you will see a portfolio board listing your current assets. On the left, you will see a sidebar with a list of app features and functions that may be helpful.
Take some time to explore the app, have fun with it, and familiarise yourself with how it works. You can change the wallet's theme using the settings bar. Personalize it to your taste.
As with the mobile app, Exodus' desktop version offers you the opportun ity to back up your wallet. You can do this before depositing crypto into the wallet. Once the wallet contains some crypto, the backup option will be highlighted with a red exclamation mark. Click on it, then follow the on-screen instructions to begin the backup process.
As with the mobile app, you will be given a randomly generated twelve-word secret "recovery phrase". This phrase functions as a master key to all of your assets. Again, we recommend storing it in a secure offline location, rather than a digital one.
Once you have finished backing up your wallet, you will be asked to create a password. You will need to enter this self-created password each time you want to log in to your Exodus wallet. To log out, just close the Exodus app window. Upon closing it, your assets and wallet files will remain encrypted by your password.
The Exodus desktop app boasts an instant exchange feature that enables you to securely and quickly exchange assets directly from your wallet. The screenshots below demonstrate how this will look on your desktop. Enjoy your new wallet, and happy trading!
Now you're set up with your Exodus wallet and ready to receive crypto, simply head to xcoins.com and start buying crypto instantly today!
To stay up to date on all things crypto, like Xcoins on Facebook, follow us on Twitter and LinkedIn and sign up at the bottom of the page to subscribe.