May 13, 2022
Bitcoin Cash vs Bitcoin: Is Bitcoin Cash a Good Investment?
Everyone and their mother knows what Bitcoin, the king of cryptocurrency, is and how it has redefined the future of finance. So what the heck is Bitcoin Cash?
Comparing Bitcoin Cash vs Bitcoin is only natural given these two cryptocurrencies share more than just the same name. They have a number of similarities as well as distinct features that make them quite different from each other. This can leave you wondering; is Bitcoin Cash a good investment and is it worth your time?
In this article, we take a look at these differences, why and how the currency was born, and how to buy Bitcoin Cash. Let's get started.
Why was Bitcoin Cash created?
Since it was created, Bitcoin has had some transaction speed problems.
Compared with traditional payment models such as the Visa or MasterCard networks, which can handle tens of thousands of transactions per second, Bitcoin's network can handle approximately seven.
Sending Bitcoin without using layer 2 solutions such as the Lightning Network, or paying high network fees, can take anywhere from 10 minutes to a week to move a Bitcoin from one wallet to another.
So that's a problem. It's frustrating enough to wait a few seconds while the credit card machine confirms your purchase.
This is where Bitcoin Cash comes in.
What is Bitcoin Cash (BCH)?
Created in 2017, Bitcoin Cash is a fork of Bitcoin. It is based on the same underlying technology as Bitcoin however it has a single major change; the block size is eight megabytes instead of Bitcoin's meager one, allowing faster transactions to occur.
As a result, the blockchain of Bitcoin Cash has fewer, but larger, blocks making up its blockchain database.
Compared to Bitcoin, the Bitcoin Cash network handles about 60 transactions per second. It's not quite Visa, but it's a substantial step up.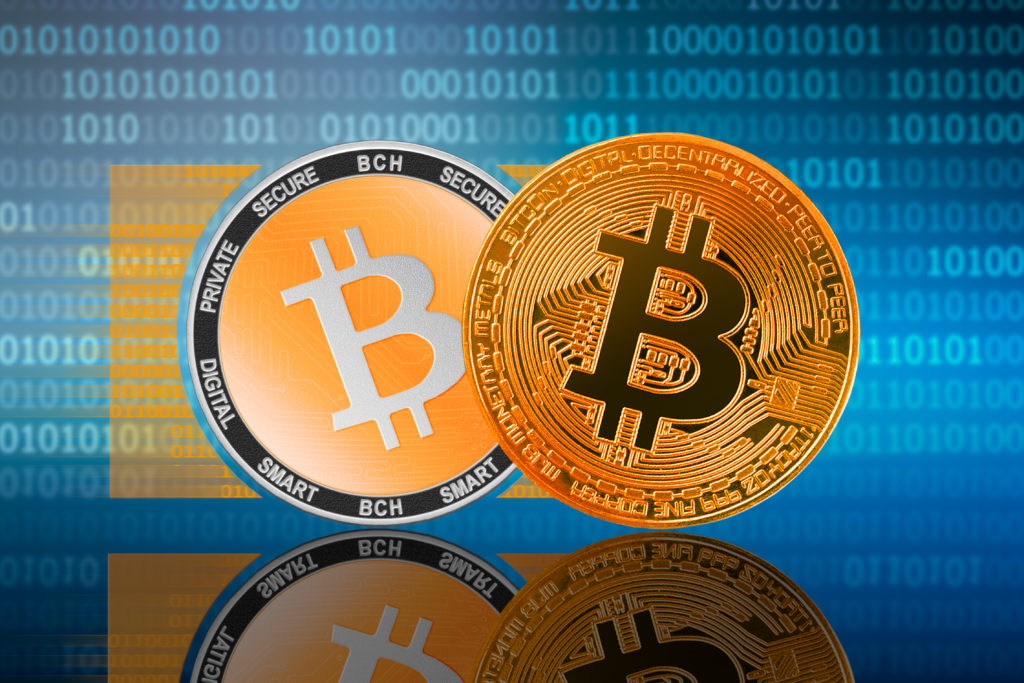 Bitcoin vs Bitcoin Cash: what is BCH's advantage over BTC?
For all intents and purposes, there's really just one difference. Bitcoin Cash has a block size of eight megabytes while Bitcoin has one.
As a result, Bitcoin Cash has a less congested blockchain. With the larger blocks, nodes have to confirm fewer individual ledgers as part of any transaction.
This allows nodes to process transactions quicker, the result being that Bitcoin Cash processing fees cost a fraction of what nodes charge to handle Bitcoin transactions.  
Bitcoin vs Bitcoin Cash: what is BCH's disadvantage over BTC?
Given the transaction speed is so much higher, it also means that Bitcoin Cash requires more processing power to handle the larger blocks.
This is one of the main criticisms of the cryptocurrency, as only big mining operations can afford the computing power necessary to process on this network. 
Some also fear that Bitcoin Cash is not as secure as the mighty Bitcoin, given that there is less mining capacity invested in securing the network.
Is Bitcoin Cash (BCH) a good investment?
Some speculators predict that the price for BCH might go up to $1000 by the end of 2022. Of course, no one can predict how a volatile asset such as Bitcoin Cash will react to market movements in the future.
However, when compared to Bitcoin, BCH has faster transaction and verification times as well as lower trading fees, making it a more viable option for peer-to-peer payments between individuals, like cash, but in digital form. 
The bottom line is that if you intend on spending your crypto soon and don't want to use a Lightning wallet, BCH may be the better option. However if you're planning to HODL for the long haul, BTC is probably the safer bet!
As always, keep in mind that before investing in any asset, you need to assess your risk tolerance, personal financial needs and investing goals. 
How to buy Bitcoin Cash (BCH)
At xcoins.com, you can buy BCH easily and securely in a few simple steps. Just register with xcoins.com, verify your identity and wait for us to review your profile within 15 minutes.
Then, place your order by selecting Bitcoin Cash from the dropdown menu, entering the amount you'd like to buy and choosing your payment method.
The final step is entering your Bitcoin Cash wallet address and pressing Complete Payment. You will then receive your Bitcoin cash coins in a few minutes.
Xcoins.com makes the payment process easy, offering payment by debit or credit card, via SEPA bank transfer for EU residents, as well as faster Payments bank transfer for selected countries.
To stay up to date on all things crypto, like Xcoins on Facebook, and follow us on Twitter, Instagram, and LinkedIn. Sign up or log in now and discover an instant and secure way of buying and selling cryptocurrencies.