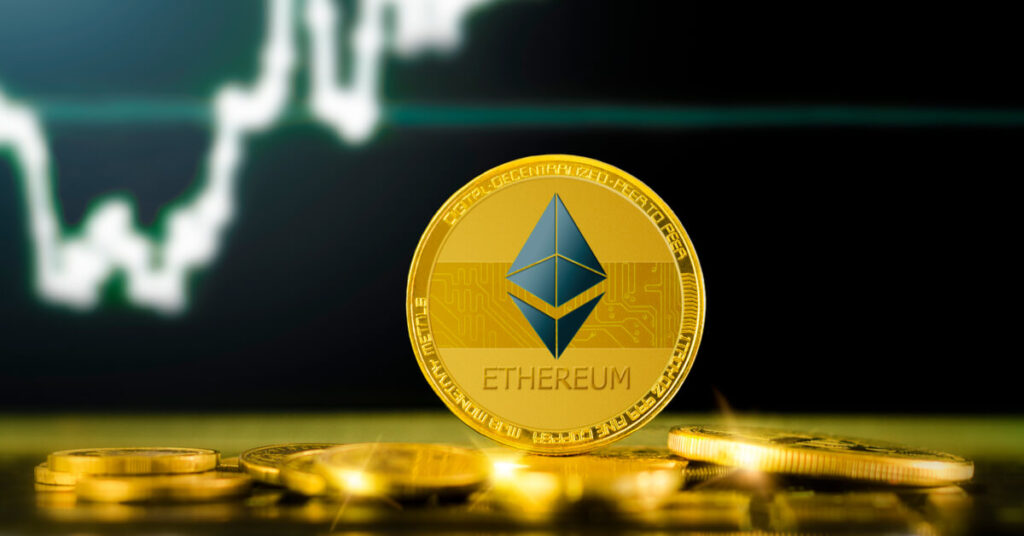 May 10, 2021
As Ether Passes $4K, Are US Banks Finally Deciding to Join the Crypto Revolution?
Cryptocurrency markets were buzzing last week with records broken on many high market cap altcoins as more US banks moved towards cryptocurrency adoption. Discover the key highlights from the markets this week.
Ethereum clears $3900
BNB, ADA, LINK, DOGE break all-time highs
Musk hosts SNL and gives cryptocurrencies air time
US Banks to offer Bitcoin purchases
Galaxy Digital acquires cryptocurrency custodian BitGo
Insurance firm places Bitcoin on the balance sheet
UFC announces fan-based cryptocurrency token
US jobs fall short of expectations
Big-ticket reports to watch out for this week
Ether breaks $4000
All eyes were on Ethereum last week, with the native token Ether climbing above $4000. The cryptocurrency has increased over 50% in two weeks, with bullish encouragement from the upcoming July hard fork, which is set to lower transactional costs on the network. 
The bullish sentiment behind Ethereum was exemplified by a large influx of traders opening call options. Data collected by Laveitas, a data analytics platform, showed that on Tuesday, a single high net-worth trader or group of traders purchased 9000 contracts on an $8000 call that expires at the end of June. The traders will return a profit only if Ether prices continue to climb. 
Ether wasn't the only digital asset breaking records last week. Binance Coin (BNB) reached all-time highs of $680. Cardano (ADA) breached the $1.50 marker, continuing to weekly highs of $1.75. Chainlink (LINK) flirted with $50 and Litecoin experienced a daily close of $360. A promising week for altcoins, while Bitcoin continues to hold steady.  
Elon Musk (a.k.a 'Dogefather') hosts Saturday Night Live
Dogecoin has experienced astronomic price increases in 2021. Partly due to the bullish cryptocurrency sentiment, but mostly due to endorsement from its many celebrity fans including Snoop Dog, Gene Simmons and several Tik Tok, and YouTube stars. The meme-based cryptocurrency was always intended as a joke. However, that has not stopped prices from increasing by over 14000% in 2021. The coin now holds the fourth largest market cap of any digital asset. This has left many professional investors scratching their heads. 
Dogecoin's biggest fan is undoubtedly Elon Musk, the CEO of Tesla, who has openly supported the digital asset since 2018. Musk's tweets have often caused shockwaves in Dogecoin prices.
Anticipation amongst Dogecoin enthusiasts reached 'fever-pitch' last weekend as Musk presented Saturday Night Live (SNL). After referring to himself as the 'Dogefather' during his announcement tweet, many were expecting a reference to Dogecoin at some point during the show. Dogecoin fans believed that a mainstream TV mention could send prices up to the coveted $1 mark.
During the show Musk referenced Dogecoin multiple times and even explained what a cryptocurrency digital asset was. However, like 'Dogeday', which took place on 20th April, the TV mention did little to encourage prices. In fact, Dogecoin prices actually decreased by nearly 30% after the show aired. Although disheartening for many Dogecoin investors, for the cryptocurrency industry, on the whole, national TV exposure is a huge source of optimism.
US Banks to offer Bitcoin purchases
In the near future banks in the United States could offer customers the ability to buy, hold and sell Bitcoin through their existing accounts. 
The crypto custody firm NYDIG announced a partnership with Stone Ridge, a $10 billion backed asset management company and Fidelity National Information services to facilitate the move. According to Patrick Sells, the head of bank solutions at NYDIG, hundreds of banks are already enrolled. He said banks are now asking for Bitcoin access because they can see customers spending money on cryptocurrency.
With the signup of smaller banks, the move could start a snowball effect for larger banking institutions that have so far been reluctant to offer Bitcoin purchases to retail clients. 
Metromile adds Bitcoin to Balance Sheet
The digital insurance firm, Metromile, announced last week that it would be purchasing $10 million worth of Bitcoin and placing it on the company's balance sheet. This would make Metromile the first insurance provider to do so. The purchase is scheduled to take place within Q2 of this year.
Alongside adding Bitcoin to company books, the company will also be offering customers the option to pay for their insurance premiums with Bitcoin. The company stated that it can see the growing demand for cryptocurrencies and wants to be at the forefront of helping its customers reach all payment options.  
Metromile's CEO Dan Preston said "We believe in the transformative potential of blockchain technology. We are still in the early days of realising how this shift to decentralise finance and cryptocurrency will create enduring advantages in insurance, but we believe that offering Bitcoin as an option for premium and claims payments would be an important first step."  
The entry of insurance companies is encouraging for the cryptocurrency industry because these companies are built around mitigating risk. By adding Bitcoin to a balance sheet a company confirms that it is effectively a risk-mitigating asset. Not bad for an asset that is only just over a decade old. 
Metromile joins a growing list of companies now actively adding Bitcoin to balance sheets, including Tesla, Square and MicroStrategy. 
Crypto giants merge
Last week, Galaxy Digital, the financial services and investment management company agreed to acquire the crypto services provider, BitGo for $1.2 billion. BitGo, which was founded in 2013, has over $40 billion of assets in custody and serves over 400 institutional clients.
The acquisition by Galaxy Digital will make the company a leading full-service platform for institutions seeking to enter the cryptocurrency space. The CEO of Galaxy Digital, Mike Novogratz, said in a press conference that Galaxy Digital's aim is to become "a one-stop-shop for institutions". He added, the acquisition "will unlock unique value for our clients and drive long-term growth for our combined business". 
Galaxy Digital will acquire 400 new clients, expand the geographic reach of the organisation and can introduce businesses to BitGo's regulated client custody solution for cryptocurrency assets. 
The deal is expected to close towards the end of 2021.
UFC announces the release of crypto token
The Ultimate Fighting Championship (UFC) announced last week that it would be minting a $UFC fan token to increase fan engagement. The UFC, which organises mixed martial art (MMA) contests worldwide, is now joining a long list of sporting teams that are already utilising the cryptocurrency ecosystem.
The aim is to provide token holders with the ability to receive engagement-based rewards and potentially the ability to influence team decisions. The supply of the UFC fan tokens will be capped at 20 million.
Chiliz, who are already working with football teams such as FC Barcelona, AC Milan and Manchester City, are the company facilitating the token minting and launch.
After the news was released, Senior Vice President of UFC Global Consumer Products, Tracey Bleczinski, said "We are continually looking for ways to increase engagement with fans, and Fan Tokens are a unique way to connect with them through a compelling, authentic product that brings them closer to UFC and gives them influence, while also rewarding their passion for the sport."   
Other sporting associations in the US have taken advantage of NFTs using them for the distribution of digital collectables. The National Basketball Association (NBA) attracted 460,000 collectors to their marketplace and covered a staggering $4m in transactions. Major League Baseball (MLB) has also begun offering its baseball card collection via a digital NFT platform.
Missed jobs numbers boost risk assets
US employment figures released last week fell short of expected targets with only 266,000 jobs added to the books in April. After passing the $1.9 trillion stimulus bill in March, April's jobs figures were expected to be closer to 1,000,000. 
The significant variation in numbers was interpreted by economists to mean that economic recovery will be slower than expected, which means the Fed will need to continue supporting the US economy for a longer period. Jerome Powell, the Fed Chair, has already made the Fed's stance on monetary easing very clear and that the removal of such measures will only occur if the labour market significantly increases.
The anticipation of continued government handouts provided encouragement for risk assets such as Bitcoin as the news was released. 
Elsewhere, the UK service sector began to show signs of improvement. The purchasing managers report by IHS Markit climbed to 61 in April from 53 in March. This is the largest increase in over seven years. The improvement comes after venues were reopened across the UK in April and a clear eagerness from the UK population to return to normal. The service sector makes up 80% of the UK economy and is crucial for its economic recovery. Many economists believe that the UK is expected to expand by 7.25% this year.
Big-ticket reports to watch out for this week:
Monday – Australian Retail Sales, 
Tuesday – China CPI (YoY), Bank of England Governor's Speech 
Wednesday – New Zealand Monetary Policy Statement, UK GDP, US CPI (MoM & YoY)
Thursday – Japan Current Account, US Initial Jobless Claims, Bank of Canada Speech
Friday – US Import Price Index (MoM & YoY), US Retail Sales, US Consumer Sentiment Index
To stay up to date on all things crypto, like Xcoins on Facebook, follow us on Twitter and LinkedIn and sign up at the bottom of the page to subscribe.