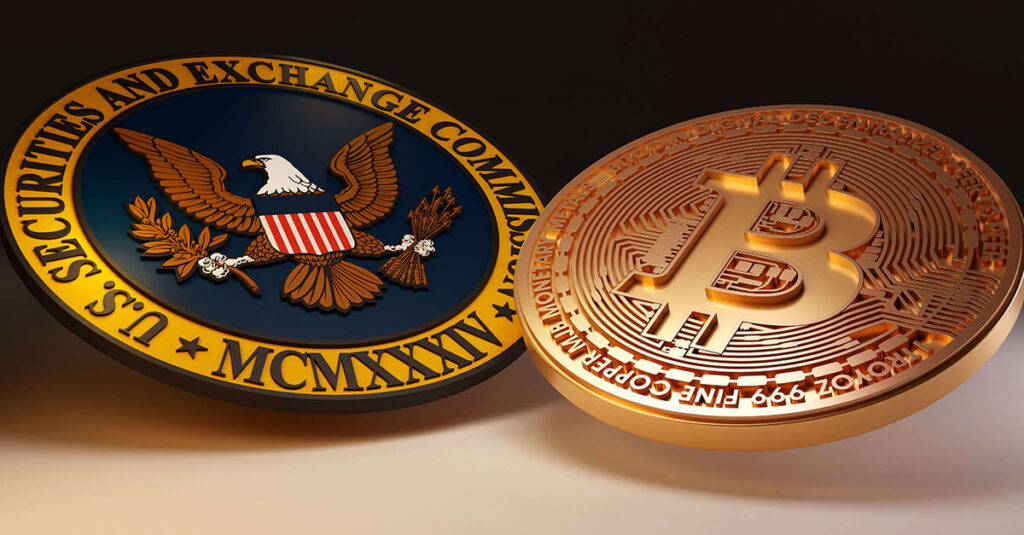 September 6, 2023
Ex-SEC Chair Jay Clayton Expects Bitcoin ETF Approval
The financial world has its eyes on the future of Bitcoin as the crypto market eagerly awaits news on the coming decision on the latest array of Bitcoin Spot ETF applications. 
Jay Clayton, former chairman of the Securities and Exchange Commission (SEC), has made headlines by stating that he expects the approval of Bitcoin Spot ETFs.
His comments serve as a positive sign for those looking to buy Bitcoin and other cryptocurrency investments.
A Sea Change in Regulatory Attitudes?
Jay Clayton, who served as the SEC chairman from May 2017 to December 2020, spoke last week on CNBC Squawk Box about the future of Bitcoin Spot ETFs. According to him, "it is clear that Bitcoin is not a security".
The remarks are significant, given Clayton's former role in overseeing the agency responsible for approving or rejecting such investment products.
For those who have been hesitant to buy Bitcoin due to regulatory uncertainty, this could serve as a boost of confidence.
Why Bitcoin Is Not Considered a Security
During the interview, Clayton clarified his stance that Bitcoin is not a security. This distinction is crucial for regulation as securities come under more stringent rules and guidelines. When it is clear that Bitcoin is not a security, the path for retail and institutional investors to buy Bitcoin becomes more straightforward.
Clayton's position aligns with the SEC's previous statements, providing a consistent regulatory outlook that could pave the way for Bitcoin Spot ETFs. With these ETFs, buying Bitcoin could become as simple as purchasing shares of a fund.
Institutional and Retail Demand for Bitcoin
The ex-SEC chairman also touched on the strong demand from both retail and institutional investors for Bitcoin investment products. He said, "Importantly, some of our most trusted providers, who are fiduciaries or have duties of best interest, want to provide this product to the retail public."
This commentary suggests that not only do individual investors want to buy Bitcoin, but large, reputable financial institutions also see the value in offering Bitcoin-related investment products. Such backing could legitimize the market further and offer more secure opportunities for buying Bitcoin.
The Future of Cash vs. Futures Bitcoin ETFs
The distinction between cash and futures-based Bitcoin ETFs has been a topic of debate. Clayton pointed out that this dichotomy couldn't last forever. His comments come after a judge called the SEC's differentiation between a futures and a spot ETF as "capricious and arbitrary", while ruling in favor of Grayscale vs. the SEC.
Such a judgment might lead to a future where both types of Bitcoin ETFs co-exist, making it easier for investors to buy Bitcoin in the form that suits them best. In either scenario, the availability of Bitcoin Spot ETFs and Bitcoin Futures ETFs would provide investors with more options to get involved in the Bitcoin market.
What Does This Mean for Those Looking to Buy Bitcoin?
Jay Clayton's statements could signify an impending change in the regulatory environment for Bitcoin and other cryptocurrencies. The 45-day deferment period mentioned by Clayton might be a short wait in the grand scheme of things. It appears that significant progress is on the horizon for Bitcoin Spot ETFs, making it an opportune time for interested investors to look into buying Bitcoin.
While the market has its risks, the chance to buy Bitcoin—either directly or through ETFs—could offer a promising investment opportunity. Increased regulatory clarity and institutional involvement may serve as catalysts for market growth.
The Opportunity to Buy Bitcoin May Soon Become Easier
If you've been considering whether to buy Bitcoin, now might be the time to closely monitor the situation. Regulatory attitudes seem to be shifting, and the investment world is watching closely. With institutional backing and an increasingly positive regulatory environment, buying Bitcoin could become easier and more mainstream than ever before.
Former SEC Chairman Jay Clayton's public statements offer optimism for those waiting for clear signals from regulatory bodies. And if the experts are to be believed, the approval of Bitcoin Spot ETFs is just around the corner, providing an exciting new way to buy Bitcoin and potentially profit from its ongoing evolution.
Please note that while Jay Clayton's statements are indicative of his experience and understanding of the market, he no longer represents the SEC. Therefore, it's advisable to consult financial advisors and conduct thorough research before making any investment decisions.
By keeping an eye on these developments, you could position yourself to capitalize on the emerging opportunities in the Bitcoin market. Whether you're a seasoned investor or a newcomer looking to buy Bitcoin, the unfolding scenario suggests that now might be an opportune time to make your move.
As always, this article does not constitute financial advice. You should be sure to do your own research and consult a professional financial advisor before making a major investment decision.
To stay up to date on all things crypto, like Xcoins on Facebook, and follow us on Twitter, Instagram, and LinkedIn.