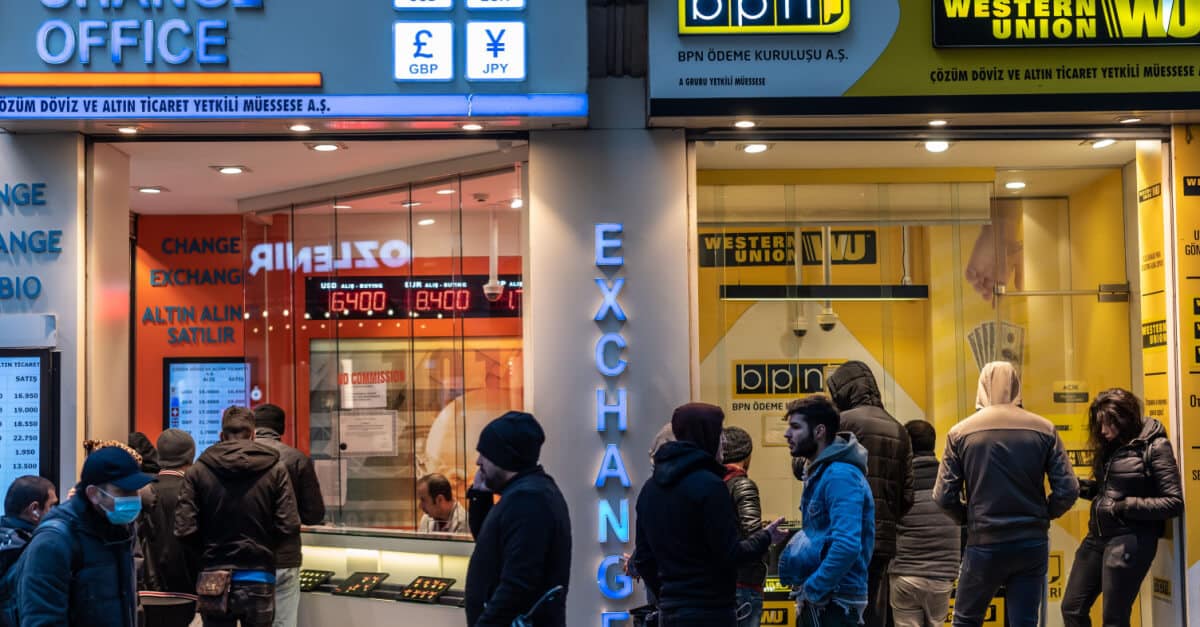 October 30, 2023
Bitcoin Hits All-Time High in Turkey, Nigeria, and Argentina
Who ever doubted Uptober? For the final full week in October, Bitcoin has pulled out the stops, extending to 2-year highs against the US dollar. However, as a result of runaway inflation in countries including Argentina, Turkey, and Nigeria, the coin is actually printing all-time highs in parts of the world.
Elsewhere, Google search results for crypto-related questions have increased rapidly over the last 7 days, reflecting the world's uptick in interest.
And with the start of November in full focus, all eyes are now turning to the next FOMC interest rate decision.
Let's dive in.
Bitcoin Hits All-Time High in Turkey, Nigeria, and Argentina
Bitcoin has hit record-breaking highs in Nigeria, Turkey, and Argentina, as these nations grapple with severe economic challenges.
The leading cryptocurrency has become a refuge for citizens facing crippling inflation and political instability.
Its value has soared to 28.4 million Nigerian naira (NGN), 12.4 million Argentine pesos (ARS), and 979,000 Turkish lira (TRY) as the respective fiat currencies of these nations continue their downward spiral.
According to the International Monetary Fund (IMF), Argentina is currently facing triple-digit inflation, with the Argentine peso ranking fourth on the list of currencies with the highest annual inflation rates.
Meanwhile, the Turkish lira and the Nigerian naira sit at 6th and 15th place, respectively, experiencing inflation rates of 25% and 52% over the past year.
The precipitous decline in the purchasing power of these currencies has led to a significant upswing in demand for Bitcoin, historically known as a hedge against inflation.
Inflation-stricken countries have seen a persistent rise in Bitcoin adoption despite governmental restrictions on the digital asset market.
A recent report by Chainalysis has revealed that Nigeria is the second most active country in crypto trading, with crypto transactions increasing by 9% year-on-year to reach 56.7 billion as of June 2023.
Turkey and Argentina are also embracing the cryptocurrency trend, ranking 12th and 15th, respectively, on Chainalysis' list.
In Turkey, nearly 10% of the population is turning to Bitcoin as a shield against the erosive impact of inflation on the lira and Argentina is witnessing a surge in Bitcoin adoption, with politicians leveraging the digital asset's popularity to gain voter support in the lead-up to the country's presidential election.
Bitcoin prints new 2023 high after closing above $35,000
After stumbling below key technical levels in late August, such as the 200-week moving average, Bitcoin has surpassed all expectations and briefly exceeded the $35,000 mark for the first time since May 2022.
Almost one week ago, Bitcoin peaked at $35,113.29, which marks an astonishing 104% gain since the beginning of the year.
According to experts, the remarkable surge in value last week can be attributed to positive sentiment surrounding a potential Bitcoin exchange-traded fund (ETF) and a sudden flight to safety, resulting in a significant spike in short liquidations.
Data from crypto information provider CoinGlass revealed that Bitcoin experienced $275.45 million in short liquidations on Sunday, followed by another $100.44 million on Monday.
The significant 10% daily price increase had a ripple effect throughout the crypto market for the remainder of the week. Ethereum recorded an 8% weekly increase, while XRP saw weekly gains of over 6%.
After the initial price spike, Bitcoin maintained a high position after the ticker for BlackRock's Spot Bitcoin ETF ticker (IBTC) was seen on the Depository Trust & Clearing Corporation (DTCC), and the SEC was ordered by the federal courts to, once again, review Grayscale's Bitcoin ETF application.
Google searches for "Bitcoin" go through the roof
Global searches for "buy Bitcoin" have surged as the cryptocurrency market experiences a major rally.
In particular, the United Kingdom witnessed an astounding 826% increase in the "buy Bitcoin" search term within just one week, according to a report from CoinTelegraph.
The surge in "buy Bitcoin" searches in the UK is indicative of the growing interest in digital assets, especially among traditional financial institutions.
While the UK led the surge, there has also been a noticeable increase in Bitcoin-related searches from users worldwide.
Users in the United States, for instance, witnessed a more than 250% increase in searches for "should I buy Bitcoin now?"
In addition to these broader queries, niche searches like "can I buy Bitcoin on Fidelity?" saw a jaw-dropping surge of over 3,100% in the last week.
Zooming out further, the search term "Is it a good time to buy Bitcoin?" saw a 110% increase in worldwide interest over the past week.
Moreover, searches for "BlackRock Bitcoin ETF" shot up by 250%, underlining the growing enthusiasm for information about BlackRock's spot Bitcoin exchange-traded fund (ETF), which is currently awaiting regulatory approval.
All eyes turn to the next FOMC rate move
As the specter of conflict looms in the Middle East, Bitcoin finds itself at the epicenter of another storm, marking its second major encounter with global turmoil in as many years.
While geopolitical tensions intensify and the reverberations of war extend far beyond the region, cryptocurrency enthusiasts are keeping a watchful eye on the market's response.
This upcoming week, the world of cryptocurrencies once again intertwines with the release of critical U.S. macroeconomic data.
On November 1, the Federal Reserve is set to convene, deliberating on the possibility of raising benchmark interest rates yet again — an event that traditionally acts as a short-term catalyst for market turbulence.
Remarkably, in recent months, Bitcoin has remained unfazed by the decisions of the Federal Reserve, even as inflation persistently outperformed market expectations.
The cryptocurrency has shown remarkable resilience, asserting its independence from the conventional financial world.
According to the chart from the CME Group's FedWatch Tool, current market expectations lean towards the Federal Open Market Committee maintaining unchanged interest rates this week.
Nevertheless, the world of cryptocurrency stands on high alert, watching how Bitcoin navigates its path through the crosswinds of global instability and the decisions of traditional financial institutions.
Alongside FOMC news, investors will also be watching Initial Jobless Claims which are released on Thursday, and S&P 500 earnings reports that are set to be released towards the end of next week.
Get those calendars ready!
To stay up to date on all things crypto, like Xcoins on Facebook, and follow us on Twitter, Instagram, and LinkedIn.