Terra Buys $1 Billion Worth of BTC as Bitcoin Wallet Addresses Hits ATH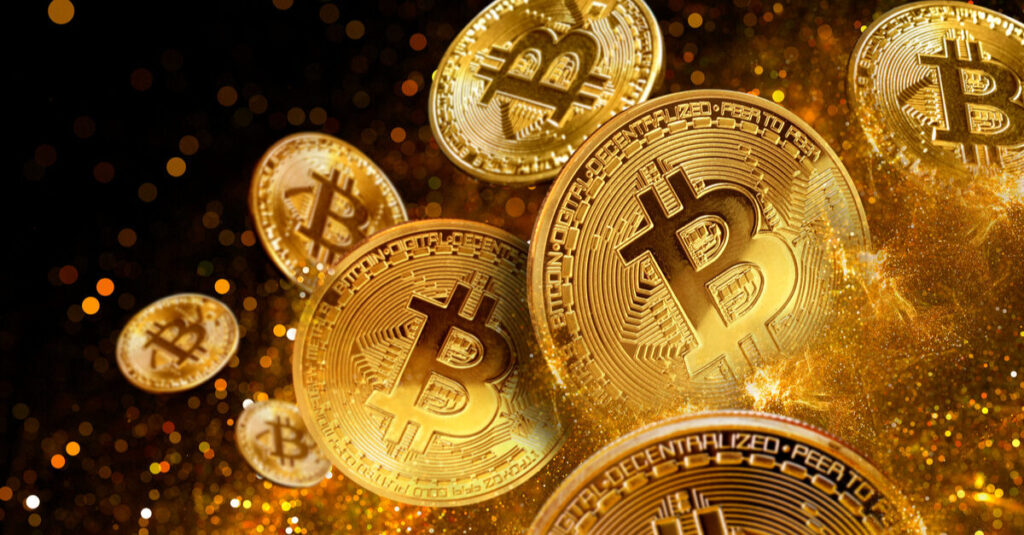 Fueled by positive sentiment, the cryptocurrency markets soared higher last week – a welcome rise when compared to the cautious price movements witnessed for much of Q1 2022. 
Potentially buoyed by news that Terra had begun purchasing BTC for its reserves, Bitcoin climbed to $47,000 and out of its January-March trading range. Many altcoins, including Ethereum and XRP, have followed.
Elsewhere this week, the DOJ charged two NFT developers for a rug pull scam, Meta continued to show commitment to the metaverse, and Exxon Mobil revealed the success of its gas-to-bitcoin mining scheme.
Terra purchases $1.1 billion worth of Bitcoin 
Cryptocurrency market cap reclaims $2 trillion 
Department of Justice sets a new precedent by charging two for NFT rug pull
Meta files 8 trademarks for the Metaverse
Number of BTC wallet addresses clears 40 million
Oil and gas supermajor ExxonMobil tests gas-to-Bitcoin mining
Terra purchases $1 billion worth of Bitcoin
As of March 26, the stablecoin protocol Terra has purchased $1 billion worth of Bitcoin for its protocol reserves. 
Terra, which runs on the Terra blockchain, focuses on generating algorithmic stablecoins such as the US dollar-pegged, UST. Although the protocol has always employed algorithmic mechanisms to stabilize native stablecoins, members of the Terra community recently voted to introduce a reserve element.
Bitcoin was chosen as the prominent reserve asset. All stablecoins will now be secured via a hybrid collateral and algorithmic mechanism.
The founder of Terra, Do Kwon, announced plans to purchase $10 billion worth of Bitcoin for the reserve in mid-March, which was positively received by members of the cryptocurrency community. 
As a result of the anticipation of the Bitcoin purchase, experts within the community have been monitoring cryptocurrency wallets associated with the Luna Foundation Guard – a decentralized organization associated with the control of Terra. 
Thanks to updates from the community, fans were notified that 24,954.95 BTC had already been acquired by a Luna Foundation Guard wallet. A sum equivalent to $1 billion. 
The anticipated acquisition of BTC has been theorized as one of the key reasons that Bitcoin has enjoyed such positive price movements over the last week. 
Cryptocurrency market cap reclaims $2 trillion
The total cryptocurrency market capitalization fell below the psychological $2 trillion mark in January 2022. Since then, cryptocurrencies have struggled to reclaim the psychological mark. 
The market has only been above the key level a handful of times.
However, as positive sentiment swelled, a range of cryptocurrencies including Bitcoin, Ethereum, and XRP, recorded a bullish candlestick pattern for the second consecutive week in a row. As a result of the bullish momentum, the total cryptocurrency market cap peaked back above $2 trillion. As of March 28, the market sits at $2.1 trillion.
In addition to the market cap boost, the total value locked within decentralized finance (DeFi) applications also enjoyed a 8.7% weekly increase. The value locked within the DeFi ecosystem now sits at $221 billion. 
Department of Justice charges two for NFT rug pull
In a groundbreaking court case, the Department of Justice (DoJ), charged and arrested two 20-year-olds last week for an NFT rug pull that occurred on January 9, 2022. 
Both Ethan Nguyen and Andre Llacuna collected approximately $1.1 million from the launch of their NFT collection known as "Frosties", however, the NFT project was subsequently abandoned by the pair almost immediately. 
Hours after the Frosties NFTs were launched, the project's Discord server, website, and social media profiles all disappeared. The $1.1 million in funds were transferred to a series of cryptocurrency wallets and all Frosties NFT holders were left holding images of cartoon characters that offered none of the promised utility, which was meant to include 3D versions of characters and a potential metaverse game.
As a result of the dishonesty, several complaints were made to the Internal Revenue Service (IRS), who, alongside Homeland Security Investigation (HSI), began to investigate the reported scam.
Nguyen and Llacuna were eventually tracked down via a cryptocurrency exchange account that provided authorities with identifiable information. When arrested, the pair were reportedly charged with one count of committing wire fraud and one count of conspiring to commit money laundering. Both charges bring a maximum jail sentence of 20 years if the pair are found guilty.
The confirmed charges are now a powerful reminder to all NFT developers that promises must be upheld just like any other form of business. 
When speaking about the case, IRS-CI Special Agent-In-Charge, Thomas Fattorusso, explained that NFTs "represent a new era for financial investments. You can't solicit funds for a business opportunity, abandon that business and abscond with money investors provided you. Our team here at IRS-CI and our partners at HSI closely track cryptocurrency transactions to uncover alleged schemes like this one."
Meta, formerly Facebook, files 8 trademarks for the metaverse
Meta, the owner of Facebook, has filed 8 trademark applications with the United States and Trademark Office (USPTO). The trademarks all involved use of the company's name, logo, and branding for different services that target Web3 and the metaverse.
After rebranding from Facebook Inc to Meta in November 2021, the company updated its logo to a version of the well-known infinity loop symbol which also resembles the letter 'M'. As part of the rebrand, the company confirmed a new focus towards amalgamating social media with the digital world inside the metaverse.
News of the most recent trademark applications was first confirmed by Mike Kondouis, a USPTO patent attorney, who detailed the serial numbers for each application and summarised what Meta's 8 trademark applications would involve. According to Kondouis, the applications covered crypto tokens, blockchain software, virtual currency exchanges, financial and crypto trading, and digital, crypto, and virtual currencies. The complete and detailed list of filings can be found on the official USPTO website. 
All trademarks were filed on March 18, and could now take up to 8 months to be approved by the USPTO. 
Interestingly, the trademark applications have come a week after the CEO, Mark Zuckerberg, confirmed that one of the company's applications, Instagram, would be incorporating NFT technology.
Number of BTC wallet addresses surpasses 40 million
According to data collected by IntotheBlock, the number of non-zero Bitcoin wallet addresses climbed above 40 million last week. It is the first time that there have ever been over 40 million independent wallet addresses.
Although the number of wallet addresses dropped in February, the worlds leading blockchain network enjoyed a boost of activity throughout March. The boost of activity has now pushed the number of addresses holding BTC greater than zero over the milestone 40 million mark.
As outlined by IntotheBlock, the increase in wallet addresses infers a "growing interest and adoption for Bitcoin." 
Since 2018, the non-zero Bitcoin wallet indicator has reportedly increased by 92%.
Oil and gas supermajor ExxonMobil to expand gas-to-bitcoin scheme
According to a new Bloomberg report published last week, the oil and gas giant, ExxonMobil, launched a pilot study in January 2021 to see if Bitcoin could be economically mined using excess natural gas. As a result of the pilot's success, the company is now considering taking the scheme to four other countries. 
Natural gas flaring often occurs as a result of oil and gas extraction, however, that excess energy is typically wasted. Instead of wasting that energy, since 2021 Exxon has been utilizing it to mine the world's leading cryptocurrency. After a successful first 6 months in the Bakken shale basin, the pilot reportedly expanded in July 2021 and began using up to 18 million cubic feet of gas per month. Operations have continued since then.
The gas-to-bitcoin mining efforts have been facilitated by Exxon's partner, Crusoe Energy Solutions. Crusoe Energy solutions are a company dedicated to helping oil and gas companies repurpose excess gas production for the mining of digital currencies. 
According to undisclosed sources referenced in Bloomberg's report, "we [Exxon] continuously evaluate emerging technologies aimed at reducing flaring volumes across our operations." As set out by the World Bank, the company is currently obliged to reduce and eventually end natural gas flaring by 2030. 
After piloting the operation in the Bakken shale basin, Exxon is now considering similar tests in Alaska, Nigeria, Argentina, Guyana, and Germany.
The news comes a month after ConocoPhillips, another oil and gas supermajor, confirmed that it had been supplying gas from the Bakken shale basin to a US bitcoin mining operator.
To stay up to date on all things crypto, like Xcoins on Facebook, and follow us on Twitter, Instagram, and LinkedIn.