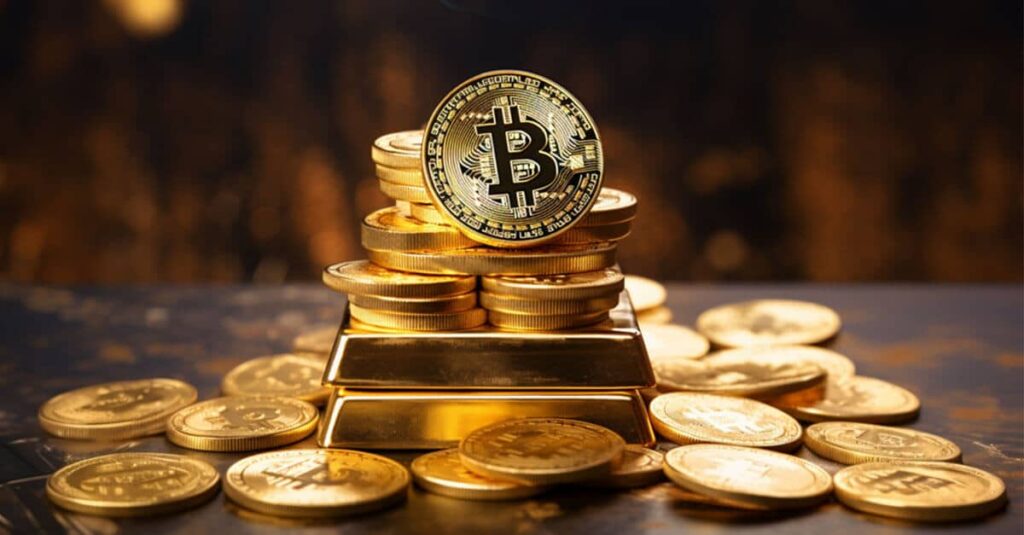 September 18, 2023
Will Bitcoin Skyrocket Like Gold Did After Its First ETF Approval?
The financial markets are abuzz with speculation regarding the possible approval of a spot Bitcoin exchange-traded fund (ETF) in the United States.
Drawing a parallel to the historical gold market, some analysts believe that this approval could send Bitcoin prices soaring.
If you're considering buying Bitcoin, this may present a golden opportunity for potential returns.
How Gold Prices Soared Post-ETF
In 2004, the first-ever ETF for gold got the green light in the United States. This move dramatically changed the way investors interacted with gold, making it more accessible and pushing it into the mainstream.
Between 2004 and 2011, gold prices surged from approximately $450 to more than $1,820, marking a staggering 346% increase.
This event is especially pertinent for those looking to buy Bitcoin, as it gives us an idea of how significant the impact of an ETF can be on an asset's price.
The Anticipation Surrounding a Bitcoin ETF
As it stands, the crypto market is ripe with anticipation over the possible approval of a spot Bitcoin ETF. Financial behemoths like BlackRock, Invesco, Valkyrie, and Fidelity Investments have all submitted applications to launch such a financial product.
This is important because an ETF would provide more liquidity and encourage mainstream, institutional adoption of Bitcoin. For anyone planning to buy Bitcoin, the approval of an ETF could be a significant market event to consider.
What Could a Bitcoin ETF Mean for Prices?
If we look at how gold performed post-ETF, it's tempting to speculate that Bitcoin could follow a similar path. Using gold's 346% price rally as a benchmark, Bitcoin could potentially jump to around $138,000, assuming the ETF is approved at a Bitcoin price of $30,000.
While this is a speculative figure, it does highlight the potentially enormous upside of owning Bitcoin should an ETF come into play.
Spot ETF vs. Futures ETF: What's the Difference?
For those new to the concept, it's essential to understand that a spot Bitcoin ETF is not the same as a Bitcoin futures ETF.
The former would provide investors direct exposure to Bitcoin, while the latter derives its value from Bitcoin futures contracts.
This means a spot ETF could have a more profound impact on Bitcoin prices, providing another compelling reason to buy Bitcoin now before the ETF gets the nod.
Risks and Considerations
Although the prospect of a Bitcoin ETF sounds promising, there are important risks to consider. Bitcoin is more volatile than gold, making it prone to more extreme price fluctuations.
Additionally, the regulatory environment for cryptocurrencies is not as established as that for more traditional assets, introducing an element of uncertainty.
The Regulatory Hurdle
It's important to note that the approval of a Bitcoin ETF is not guaranteed. The U.S. Securities and Exchange Commission (SEC) has been cautious, citing a lack of clarity in crypto regulations as a stumbling block.
This regulatory hurdle is a crucial factor that anyone looking to buy Bitcoin should keep in mind.
Market Indicators and Timing
Despite the SEC's cautious stance, Bitcoin-related stocks have been outperforming BTC itself recently, indicating that big equity funds are currently optimistic about an ETF approval.
If these market indicators are anything to go by, now might be a favorable time to buy Bitcoin. However, it's important to be cautious and consult with a financial advisor, especially given the volatile nature of cryptocurrency markets.
To Buy Bitcoin or Not?
The pending approval of a spot Bitcoin ETF presents both opportunities and risks. If Bitcoin follows gold's trajectory post-ETF approval, early investors could reap substantial rewards.
However, it's crucial to be aware of the risks, especially concerning regulatory uncertainty and market volatility. As always, if you decide to buy Bitcoin, make sure to do your own research and possibly consult with a financial advisor to make a well-informed decision. With the potential for high returns, investing in Bitcoin could be the opportunity of a lifetime for those who make the right call at the right time.
As always, this article does not constitute financial advice. You should be sure to do your own research and consult a professional financial advisor before making a major investment decision.
To stay up to date on all things crypto, like Xcoins on Facebook, and follow us on Twitter, Instagram, and LinkedIn.