May 27, 2022
The Crypto Crash of 2022: Will Crypto Recover?
As the dust settles following a massive crypto crash that saw Bitcoin's value fall to $26,766 on Thursday 12th May (close to a 50% fall from its November 2021 peak), we analyse what caused this drop, ask is it really worth buying the dip at this time of crisis, and will crypto recover?
Has crypto crashed before?
Of course! Just like traditional financial markets the cryptocurrency market has most definitely crashed before and investors are well acquainted with dips in such a volatile market as cryptocurrency. 
One of the biggest crashes in recent years was most definitely the 2018 cryptocurrency crash. 
Known as the great crypto crash, January 2018 saw the price of Bitcoin fall by 65% after an unprecedented boom in 2017. The crypto market steadily regained its composure and by December 2018, Bitcoin's value had recovered to what it had been exactly a year before. As predicted though, this was not the last crypto crash. Fast forward to 2022.
2022: Why is crypto crashing?
There are several theories. Let's break them down:
1. It reflected the decline in the wider financial markets
As crypto markets ballooned over recent years they have become intrinsically tied with the broader financial markets. As reported by outlets such as the BBC, the crypto market is following in the footsteps of major stocks such as the DOW and the S&P 500 in the US, which in May 2022 recorded their longest weekly losing streak since the 2008 financial crisis, sinking for six consecutive weeks.
It is believed that the cryptocurrency market reflected this drop because, in recent years, investors in the cryptocurrency market stopped being the domain of independent investors and niche enthusiasts. 
Rather, big-time investors that use hedge funds and money managers have now widened their investment portfolio to include trading in cryptocurrencies, showing a growing trend where the cryptocurrency market reflects shifts in the wider financial market. 
It is widely believed these large investors treat crypto as a risk-on asset, and pull their funds when they fear a broader market pullback.
2. It's TerraUSD's Fault
TerraUSD, then the third largest stablecoin, and the largest algorithmic stablecoin, imploded in the same week. 
Why was this a problem? Well, as the name suggests, stablecoins are intended not to fluctuate in value and many traders use such coins to buy other cryptocurrencies. 
TerraUSD, as opposed to most stablecoins, was not backed by cash or other more traditional and stable assets. 
Its stability came from algorithms that linked its value to a sister cryptocurrency called Luna which lost almost its entire value. 
This caused a domino effect on other stablecoins, (Tether briefly fell as low as $0.95 from $1) that in turn left its mark on major cryptocurrencies such as Bitcoin and Ethereum.
What should you do now that prices are low?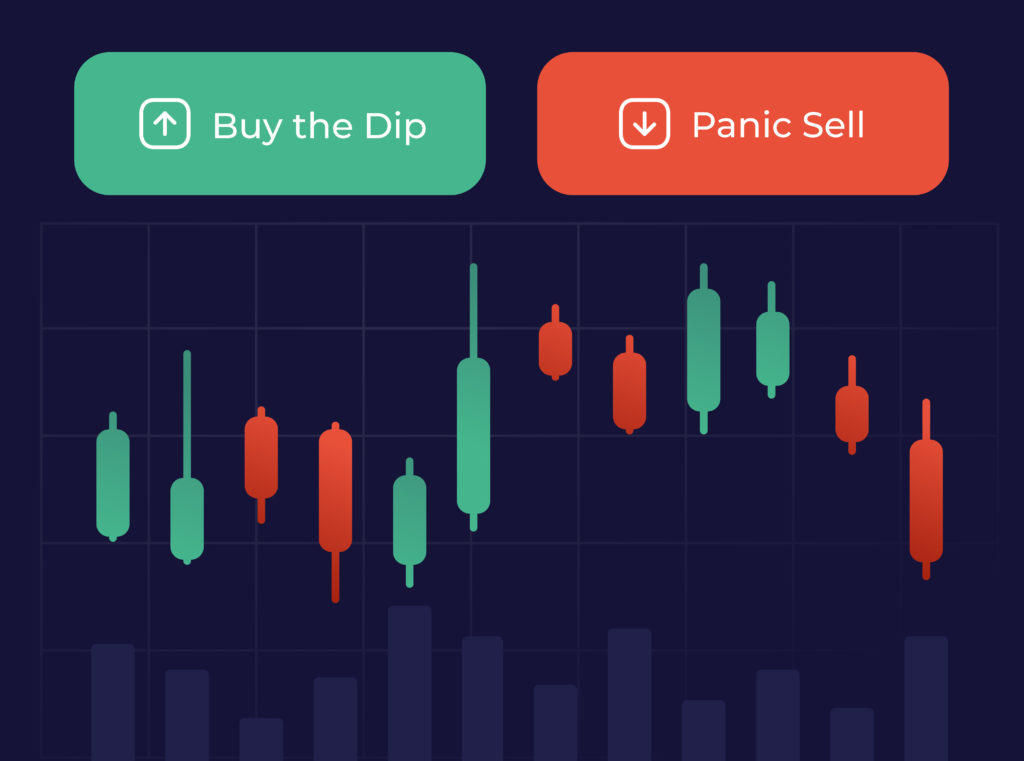 As most crypto veterans know, there are two things you need to do now.
If you already hold cryptocurrencies with a declining value:
Keep calm and hodl on. 
If you have a number of coins that are declining in value, then ignore the urge to sell and hodl on. 
It is a good idea to look at what happened in the past when crypto has taken a beating and remind yourself that the market did in fact recover.
Holding on to your coins instead of selling them off during a dip means you will have a greater chance of regaining a considerable return on investment in the long run.
Consider buying the dip
Buying the dip is definitely trending at the moment and you might be wondering whether to go for it or not. 
Buying the dip means buying when the price of an asset is lower than its usual market value. Buying low and selling high is a tried and tested investment strategy and is worth looking into when the crypto market is crashing. 
Whether you should buy the dip or not hinges on one fact: when and if the market will recover. 
This brings us to our next question.
Looking ahead: Will crypto recover?
As usual, there are mixed reviews. Some investors say that despite such a rocky start to the year, Bitcoin will still hit the $100,000 mark by December 2022. They cite increased demand due to continuous mainstream adoption and major corporations' interest in the digital metaverse as the main reasons.
On the other hand, shifting monetary policies in the U.S., the war in Ukraine, and high inflation will continue wreaking havoc on all financial markets, especially in such a volatile one as the crypto market.
Past experiences have shown us that Bitcoin and other cryptocurrencies have come back stronger than ever from every crypto crash ever experienced. The optimism expressed by enthusiasts worldwide is already driving the value of major cryptocurrencies higher. 
However, the future does remain uncertain so, as always, make sure that you do not take any spontaneous actions based on emotions alone, keep a close eye on the news, and consider buying the dip while we ride this wave out.
As always, this article does not constitute financial advice and you should be sure to do your own research and consult a professional financial advisor before making any investment decision.
To stay up to date on all things crypto, like Xcoins on Facebook, and follow us on Twitter, Instagram, and LinkedIn.