September 12, 2022
Bitcoin Explodes Higher As Ethereum Merge Arrives
After testing range lows at the start of last week, Bitcoin soared on Friday as macro fundamentals aligned.
With a weakened US dollar, strong equities, and support from the SEC Chair to place oversight of Bitcoin with the CFTC, the price of the world's leading cryptocurrency recorded the largest daily increase in six months. 
From Wednesday's range lows of $18,500, Bitcoin reached $22,300 earlier today; a 20% increase in value.
All eyes now turn to Ethereum, to see if the Merge can keep bullish momentum rolling.
Bitcoin explodes higher from range lows
The week of the Ethereum Merge arrives
SEC Chair supports the CFTC taking oversight of Bitcoin
Bitcoin explodes higher from range lows
Bitcoin bulls were shaken at the start of last week as the price of the digital asset fell below the key level of support of $20,000.
After testing $20,000 for 9 consecutive days, Bitcoin fell back towards range lows of $18,500. However, the bearish move lower was shortlived as the price of Bitcoin rallied over 10% on Friday to reclaim a position above $21,000. It was the largest daily gain in over six months.
The sudden bullish momentum triggered price increases across the remainder of the crypto markets. During Friday's trading session, both Ethereum and XRP increased by 5.5% and 5.2% respectively. 
It has been suggested that the explosion from monthly lows could be attributed to a bearish move in the US dollar index (DXY); an index that measures US dollar strength against a basket of other currencies. 
Bitcoin and the DXY are often inversely correlated, so a bullish DXY usually corresponds with a bearish market for Bitcoin. Unfortunately for Bitcoin investors, the US dollar has continued to show increased strength since May 2021. 
This was highlighted perfectly last week by the world's most traded FX pair, EUR/USD. The value of 1 Euro dipped below 1 US dollar for the first time in over 20 years on Monday due to dollar strength.
However, that strength was halted on Friday as the DXY experienced a 1% fall in value. According to Reuters, the fall in US dollar strength may have been the result of investors consolidating positions ahead of fresh US CPI results which are set to be released on Tuesday. 
In addition to US dollar weakness, Bitcoin was further boosted by a strong close in US equities and higher futures prices. This combination of strong macros resulted in Bitcoin pushing higher on Saturday, eventually reaching a weekend high of $21,800.
Experts are now questioning if this latest bear market rally could see Bitcoin return to range highs of $24,500 or whether bearish sentiment could return.
BTC/USD daily chart vs US Dollar DXY index.
The week of the Ethereum Merge arrives
Three days from now, the Merge is expected to take the Ethereum blockchain from Proof-of-Work (PoW) to Proof-of-Stake (PoS); a transition that Ethereum developers have been working on for several years.
According to the Ethereum research company, Nethermind, the final and last shadow fork was successfully completed on Friday. In total, there have been 13 shadow forks that have been used to test PoS upgrades against Ethereum's mainnet so far. 
The first shadow fork was implemented in April 2022. Subsequent testnets have allowed developers to practice running PoS nodes within the network.
After setting the stage with the pre-Merge Bellatrix upgrade on September 6th, the Merge is now set to be triggered by the final Merge upgrade, known as Paris. 
Upon execution of Paris, after the last PoW block has been mined, an Ethereum validator will generate the first-ever PoS block. As long as the PoS block is added to the blockchain, the Merge will be deemed a success.
The Merge is set to execute at the Total Terminal Difficulty of 58750000000000000000000. According to the sources including the mining operator, NiceHash, this should mean the Merge takes place on September 15th between 12:00 UTC and 03:00 UTC.
Tweet from Ethereum research company, Nethermind, confirming the success of the last shadowfork.
SEC Chair supports the CFTC having oversight on Bitcoin
The SEC Chair, Gary Gensler, helped to boost Bitcoin's price last week by stating he would be happy to hand the Commodity Futures Trading Commission (CFTC) the power to "oversee and regulate crypto nonsecurity tokens and related intermediaries."
One of the very few cryptocurrencies Gensler believes in not a security is Bitcoin.
Over the years there have been numerous proposals to transition oversight of Bitcoin to the CFTC, which currently only regulates derivatives.
Gensler has openly stated he believes Bitcoin to be a commodity rather than a security and, therefore, would be happy for its regulation to be governed by another organization. Unfortunately, Gensler does not share the same view for other cryptocurrencies.
As a result, many believe that Gensler now has his sights on the world's second-largest cryptocurrency, Ethereum.
Cryptocurrency Lawyer, Jake Chervinsky, was quick to point out that although bullish for Bitcoin, there was no mention of any other cryptocurrencies and that could mean the SEC now has ETH in its crosshairs.
In a Twitter exchange, Chervinsky explained that with regards to the article, "it claims Chair Gensler supports CFTC regulation of cryptocurrencies "such as bitcoin" & quotes him referring to "crypto nonsecurity tokens." There's no mention of ETH except in reference to the DCCPA, a bill that he hasn't expressly supported."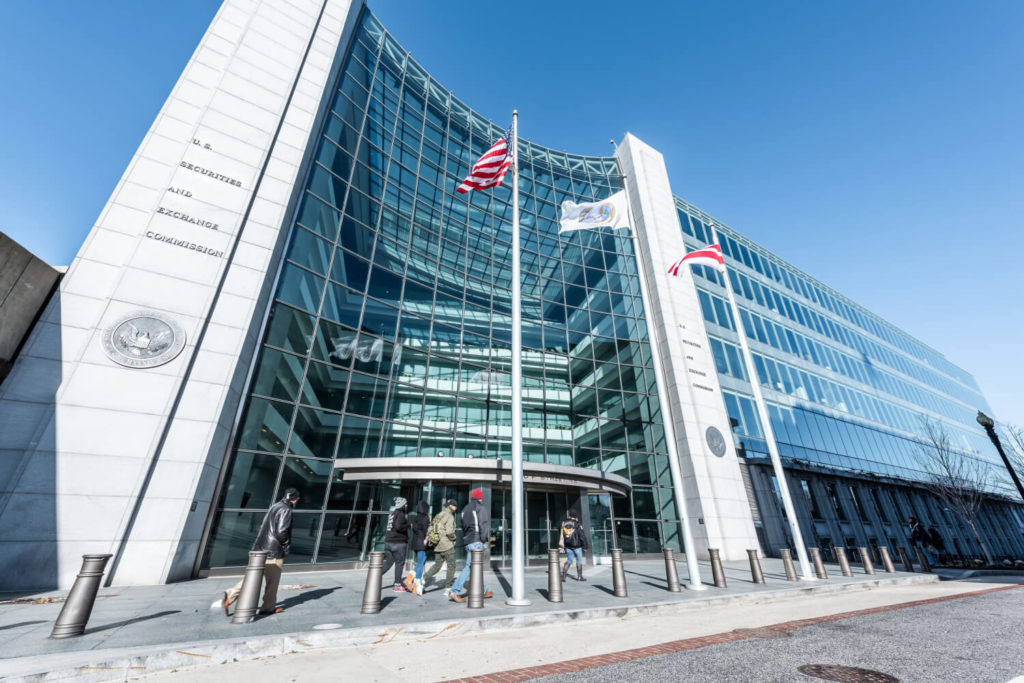 SEC Headquarters in Washington DC.
To stay up to date on all things crypto, like Xcoins on Facebook, and follow us on Twitter, Instagram, and LinkedIn.