Blog
&nbsp
Crypto News
&nbsp
&nbsp
XRP Soars 35% Shrugging Off Macro Fears
XRP Soars 35% Shrugging Off Macro Fears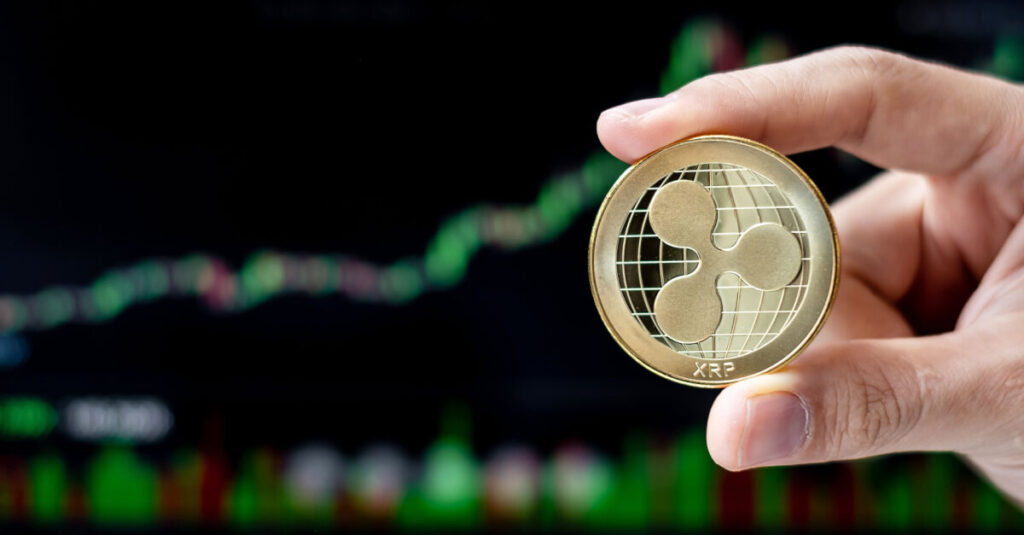 Volatility was heightened last week as the Federal Reserve confirmed its latest interest rate decision. 
Although a 0.75% increase was expected, crypto prices began to crumble as Fed Chair, Jerome Powell, warned there was no painless way forward. 
Even with the cloud of future interest rate hikes hanging over the market, the seventh largest cryptocurrency, XRP, recorded one of its best weeks of 2022. 
Excitement surrounding the altcoin was raised as both the SEC and Ripple are now looking to close the ongoing lawsuit. 
Bitcoin holds yearly lows as Fed warns of more pain
XRP pushes higher as both Ripple and SEC look to end the lawsuit
Michael Saylor shares new all-time high prediction for Bitcoin
Bitcoin holds yearly lows as Fed warns of more pain
Severe volatility gripped the crypto and equity markets last week as the Federal Reserve announced its latest interest rate decision. 
At 2 pm EST, the Federal Reserve confirmed that it would be increasing the Federal Funds Rate from 2.25-2.5% to 3-3.25%. It is the third 0.75% interest rate hike the Fed has implemented in 2022 and is the highest Federal Funds rate in over 5 years.
A 0.75% interest rate hike was the most expected outcome from September's FOMC meeting, which was echoed in the initial price rally across both cryptos and stocks. The threat of a record-breaking 1% interest rate hike is, for now, off the cards. 
However, the interest rate decision was followed by a speech from Fed Chair Jerome Powell, which was enough to send Bitcoin back towards yearly lows of $18,500. 
During his speech, Powell confirmed that the Fed is expecting to see more interest rate hikes throughout the year. In addition to interest rate hikes, the Fed also wants to see a correction in the housing market and expects to see unemployment levels rising to near-recession levels.
According to Powell, "We have got to get inflation behind us. I wish there were a painless way to do that. There isn't."
As a result of Powell's warning of additional pain, the price of Bitcoin quickly reversed its initial rally and fell from $19900 to $18,150 on Tuesday. Although recovering slightly towards the end of the day, Bitcoin price closed at $18,450, which was the lowest daily close in 2022. 
Although closing low on Tuesday, the worlds leading cryptocurrency continued to hold the lows from June 2022 and climbed back above $19,000 over the weekend.
Federal Funds Rate between 2018 and 2022.
XRP pushes higher as both SEC and Ripple look to end lawsuit
XRP soared higher last week and overcame negative market sentiment to record its highest daily close in 4 months. The move higher is the result of new developments in the Ripple lawsuit, which both the Security and Exchange Commission (SEC) and Ripple are now looking to close.
The SEC filed a lawsuit against Ripple in December 2020, which has consistently dragged the price of XRP lower. According to the SEC, $1.3 billion worth of XRP were sold as securities; a claim that Ripple has consistently fought throughout the lawsuit.
In the latest twist, both the SEC and Ripple have now filed for a 'summary judgment, which means both entities are now asking a judge to decide if Ripple broke Federal securities laws. 
A judge will now need to assess if XRP meets the precedents set by a previous court case, known as the Howey Test; a feat that the SEC has, so far, been unable to prove.
Speaking about the new filings, Ripple's CEO, Brad Garlinghouse, tweeted, "Today's filings make it clear the SEC isn't interested in applying the law. They want to remake it all in an impermissible effort to expand their jurisdiction far beyond the authority granted to them by Congress."
As a result of the summary judgment, some experts have suggested that, one way or another, this could mean an early close to the case.
With the rumor of an early close circling the community, the price of XRP soared higher throughout the week, pushing above a local zone of resistance at $0.39. While all other coins suffered from the threat of future interest rates, XRP secured a 35% increase for the week. 
Regardless of the outcome, it appears that the end of the lawsuit could be more bullish than the outcome. 
To boost XRP prices further, a commissioner from the Commodity Futures Trading Commission (CFTC) visited Ripple's head offices on Monday. Many are hoping that the CFTC will take control of the regulation of cryptos, such as XRP.
Tweet from Ripple's CEO, Brad Garlinghouse highlighting SEC's failure to prove XRP is a security.
Michael Saylor shares new all-time high prediction for Bitcoin
According to Microstrategy's CEO, and Bitcoin bull, Michael Saylor, Bitcoin will return to its all-time high peak of $68,900 within the next 4 years. Beyond that, he believes Bitcoin will hit $500,000 in the next decade. 
Saylor shared his views at MarketWatch's Best New Ideas Money Festival on Wednesday, which was taking place in New York.
In an interview with MarketWatch, Saylor explained that the prediction of $500,000 would require the world's leading cryptocurrency to match the market cap of gold. "The next logical stop for bitcoin is to replace gold as a non-sovereign store of value asset," he described.
In addition to all-time high predictions, Saylor also explained that he had been monitoring Bitcoin's recent price movements with a simple moving average. According to the entrepreneur, based on these measurements the bottom for Bitcoin should be somewhere around the $20,000 level; a price that Bitcoin has been hovering at since June 2022. 
Alongside price predictions, Saylor also confirmed that MicroStrategy was developing a set of crypto wallets that leverage Bitcoin's secondary Lightning Network. It is the company's hope that these wallets will be used by enterprises around the world.
Microstrategy continues to hold over 130,000 Bitcoins on the company's balance sheet, with Saylor personally holding a further 17,732. 
Michael Saylor speaking at MarketWatch Best New Ideas Money Festival, New York City.
To stay up to date on all things crypto, like Xcoins on Facebook, and follow us on Twitter, Instagram, and LinkedIn.