Crypto Girls: 11 Women Leading the Way in Cryptocurrency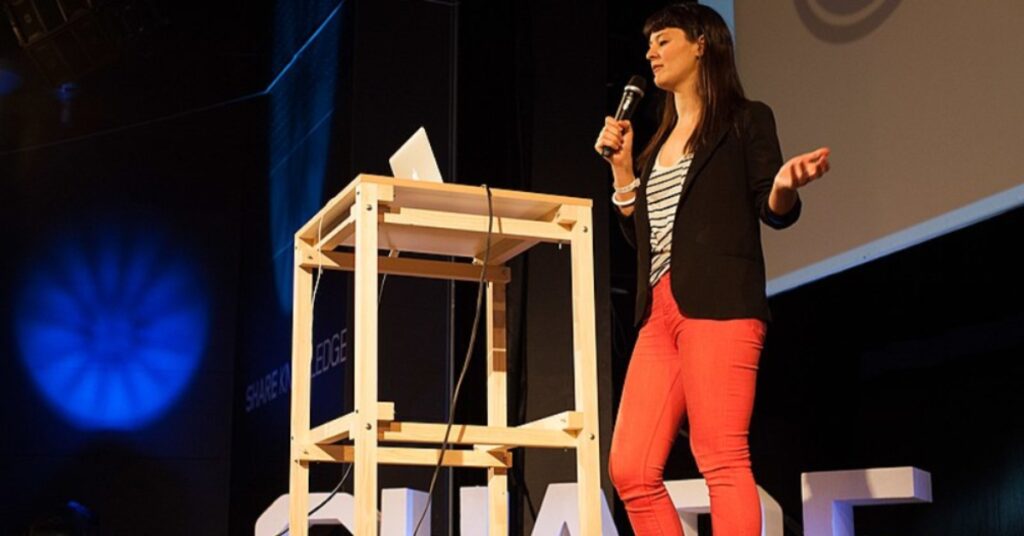 Where are the women in crypto? The typical image of a cryptocurrency user has always been of a young white male, and research still seems to bear this out. A recent Pew Research Center survey showed that 43% of men between the ages of 18 and 29 have traded, invested in, or used cryptocurrency compared with 19% of women in the same aged group. 
In all age categories, men's participation in crypto outstrips women's. There are still so few women in finance generally, but in the crypto industry, the numbers are even worse. An investigation by Crypto Head found that out of the 121 founders of top crypto companies, only 5 were female. That's less than 5% of crypto leadership positions being held by women. 
Things are changing, though, and interest in crypto among women is growing. In another US study, one-third of women surveyed said they intended to buy cryptocurrency in 2022. But women aren't just buying crypto, they're also becoming crypto influencers. So, who are the crypto girls making waves in what has otherwise been seen as a male-dominated industry?
Elizabeth Stark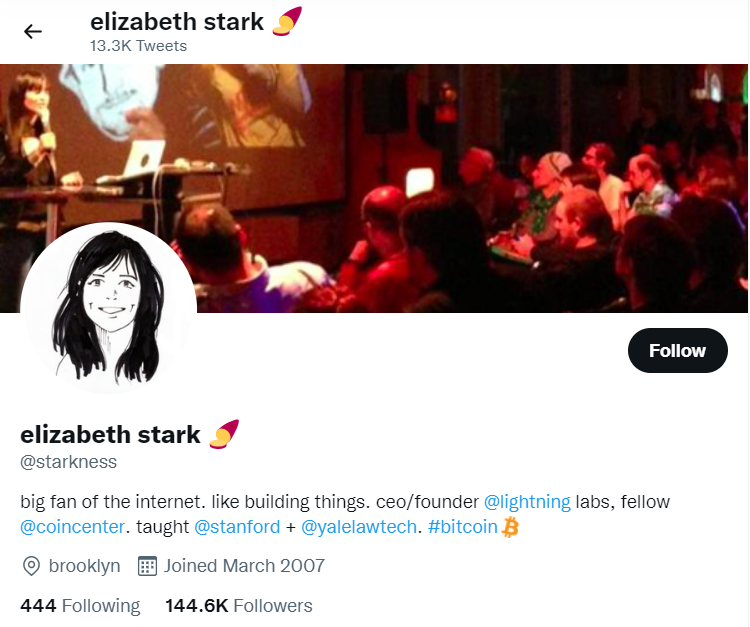 One of the best-known women in crypto, Elizabeth Stark is co-founder and CEO of Lightning Labs, a company dedicated to developing programmable financial layers for faster, scalable Bitcoin transactions. The start-up, founded in 2016, is backed by Jack Dorsey and raised $10 million in 2020 with the aim of developing a Visa-style network for Bitcoin.
Stark is also a member of the non-profit cryptocurrency policy group Coin Center, and an advisor for blockchain startup Chia. She previously lectured on the future of the internet and peer-to-peer technologies at Stanford and Yale universities.
Caitlin Long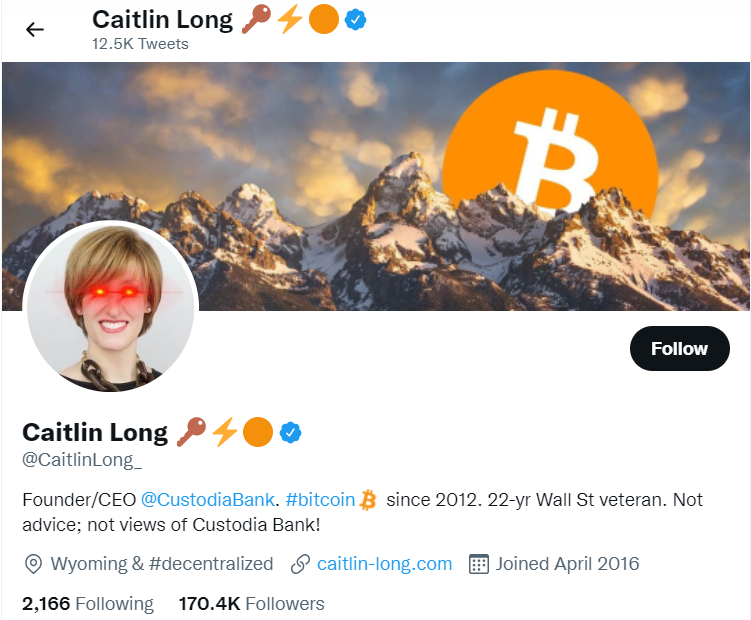 Before becoming chairwoman and president of blockchain company Symbiont, Caitlin Long worked on Wall Street for 22 years. She is co-founder of the Wyoming Blockchain Coalition and was instrumental in getting blockchain legislation passed in Wyoming.
Long received the MarketsMedia Women in Finance Award for Excellence in Blockchain in 2016 and chairs WyoHackathon, a celebration of blockchain attended by developers, crypto companies, and entrepreneurs. After leaving Symbiont in 2018, she founded Custodia Bank, which focuses on crypto-asset banking.
Galia Benartzi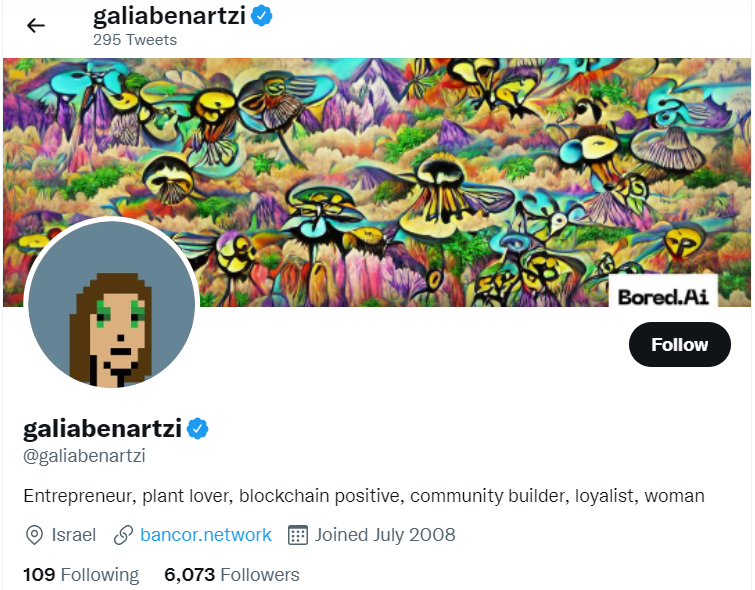 Galia Benartzi is one of the key crypto influencers in the world of cryptocurrency. A technology entrepreneur, Benartzi co-founded the start-ups Mytopia and Particle Code before going on to co-found cryptocurrency conversion company Bancor in 2017. To date, this blockchain protocol has processed more than $2 billion in token conversions. 
She has been named as one of the leading women in crypto by Forbes and Glamour Magazine, has spoken at the United Nations, the Oslo Freedom Forum, and TEDx, and has been featured on CNBC and BloombergTV.
Ria Bhutoria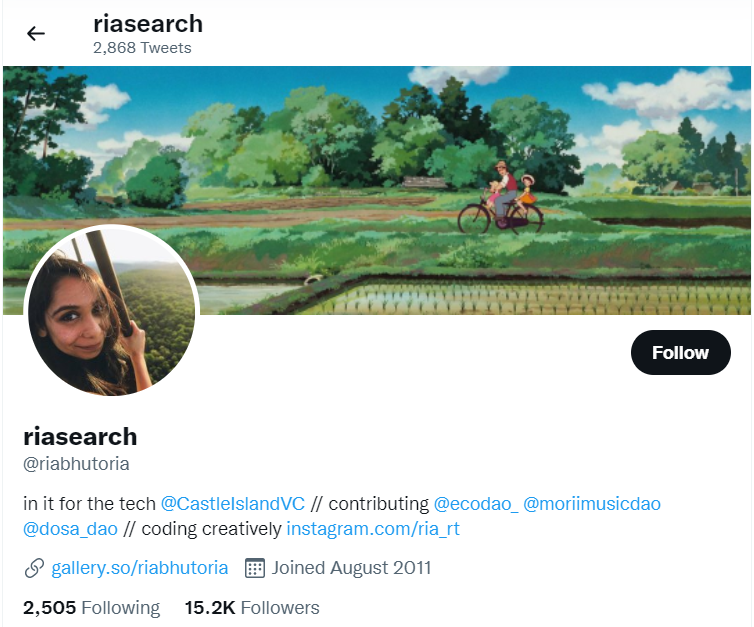 Ria Bhutoria is one of the most formidable women in finance, not just crypto. She previously worked as a senior analyst at Circle Research and was an equity research analyst at Credit Suisse before taking up her role as Director of Research at Fidelity Digital Assets.
Now General Partner at Castle Island Ventures, a venture capital firm focusing solely on public blockchains, Bhutoria has been at the forefront of the crypto revolution. If you're looking for cryptocurrency investment advice, Ria Bhutoria is your go-to.
Laura Shin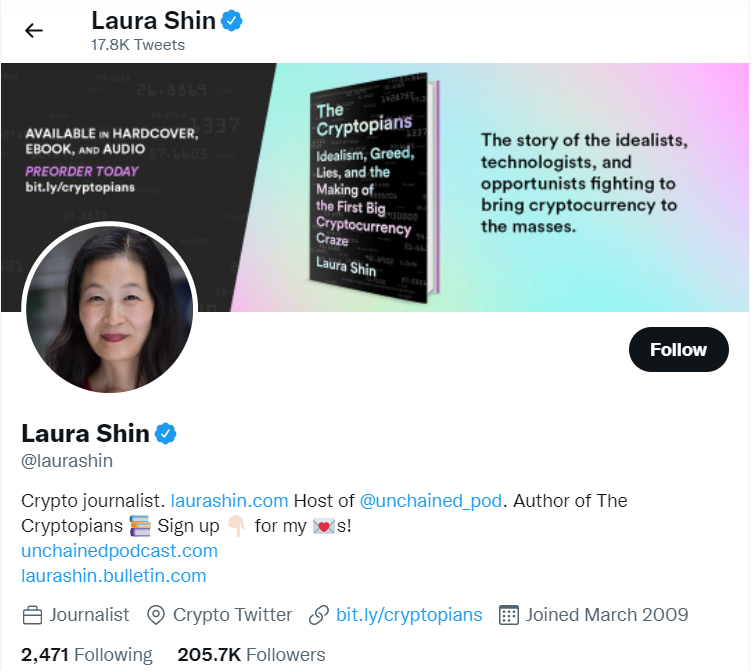 Another of the women in crypto who simply had to make this list is Laura Shin. A crypto-journalist with extensive knowledge of the industry, she previously worked at Forbes as a senior editor, covering all things crypto. Her podcast Unchained discusses the latest news and advancements in the cryptocurrency industry and has had over 15 million downloads and views.
In 2021 she released her first book, The Cryptopians: Idealism, Greed, Lies, and the Making of the First Big Cryptocurrency Craze, which further cemented her reputation among the crypto influencers.
Meltem Demirors
No crypto girls list would be complete without Meltem Demirors, Chief Strategy Officer at digital assets investment firm CoinShares. Before moving to her current position, Demiror helped establish the Digital Currency Group and co-founded the World Economic Forum Cryptocurrency Council.
When it comes to cryptocurrency, if she doesn't know it, it's probably not worth knowing. Demirors is active on Twitter, and you can follow her there for plenty of no-nonsense advice on cryptocurrency investing.
Joyce Kim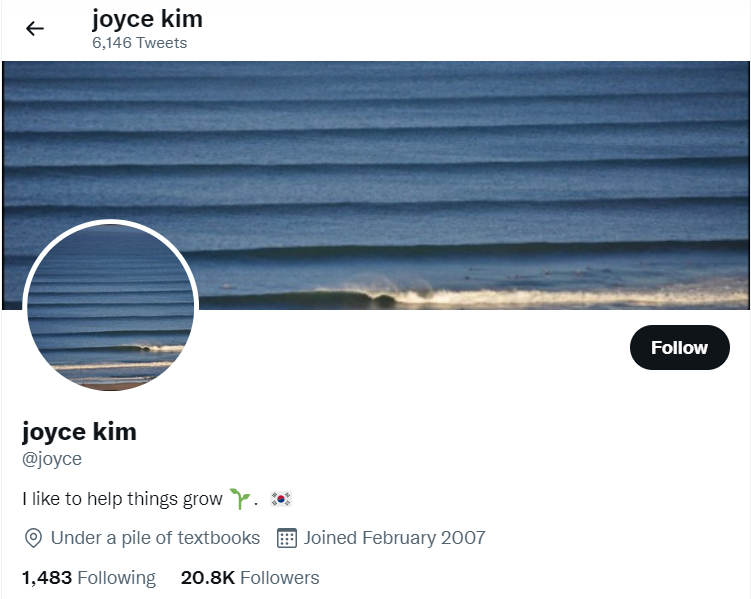 Joyce Kim is the co-founder and Managing Partner at SparkChain Capital, a $100 million fund that invests in blockchain and cryptocurrency start-ups. Kim previously founded and was Executive Director at open-source payment network Stellar.
Regarded as one of the top crypto influencers in the world, Kim has shared her cryptocurrency expertise with banks, government organisations, and the UN. There are few men or women in crypto who can match her knowledge or experience.
Desiree Dickerson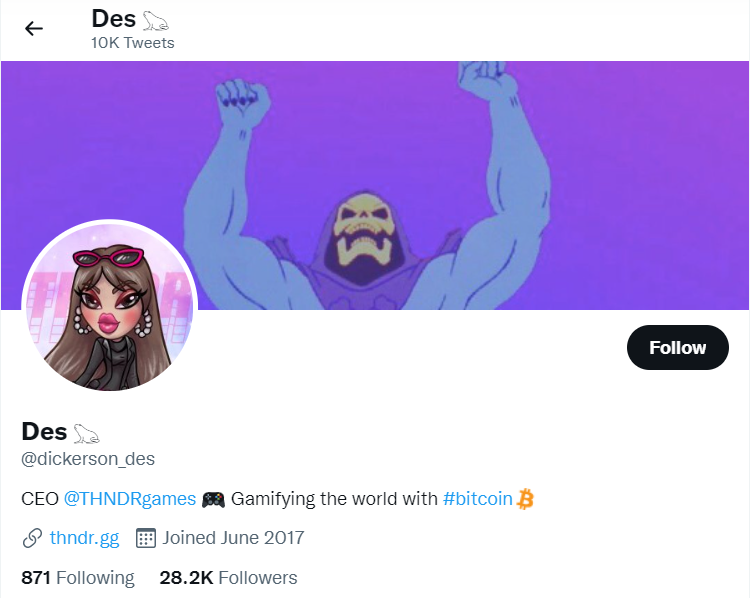 Desiree Dickerson is the co-founder and CEO of THNDR Games, which specialises in developing mobile games that let people earn bitcoin as they play. In recent years, gaming has been identified as a way to encourage Bitcoin adoption, and Dickerson has seen the potential too.
Before moving to THNDR Games, Dickerson was Vice President of Business Operations at Lightning Labs, where she was focused on solutions to making Bitcoin faster, cheaper, and easier to use.
Crypto Sara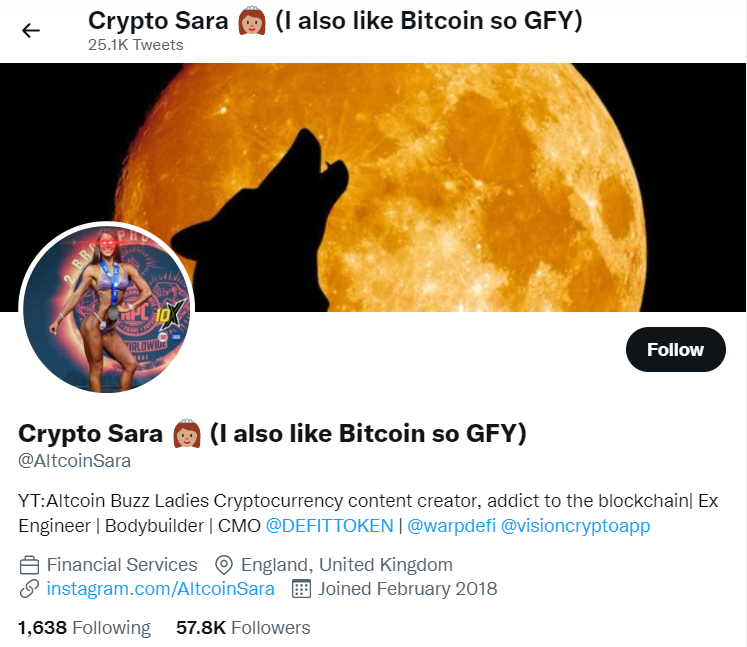 As crypto girls go, Crypto Sara is one you should definitely be following. Her YouTube channel Altcoin Buzz Ladies is packed with news and advice on all things crypto and has gained a dedicated following in recent years. 
She originally trained as a civil engineer but was soon dedicating herself full-time to the world of blockchain and cryptocurrency. She has gained a well-earned reputation for the accuracy of her market analysis and is now one of the leading crypto influencers. 
Anita Posch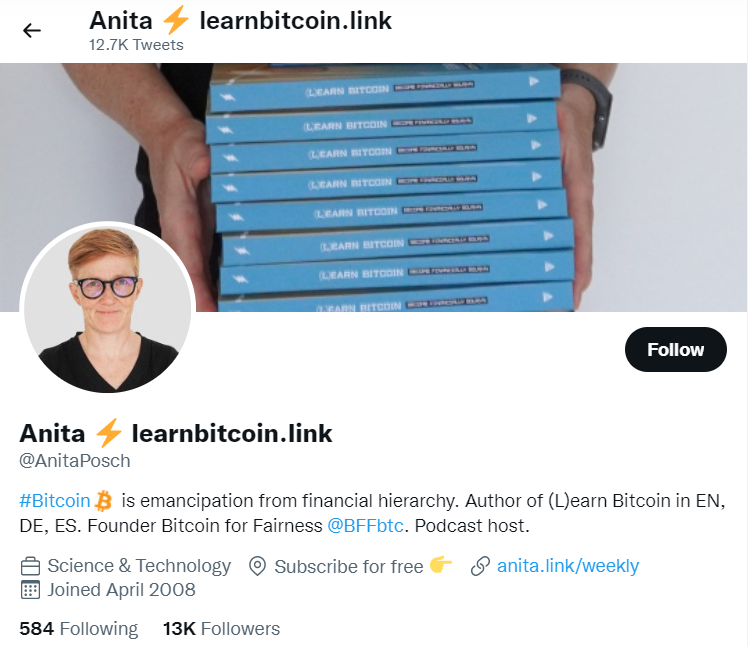 Before becoming a Bitcoin advocate, Anita Posch spent 20 years in web development and e-commerce. Disillusioned with these traditional industries, she began to see the positive potential of Bitcoin on society.
Posch is the founder of Bitcoin for Fairness, a non-profit organisation aiming to bring economic empowerment to those in developing countries through Bitcoin. She also has a podcast, The Anita Posch Show, and is the author of (L)earn Bitcoin. 
Lindsey Grossman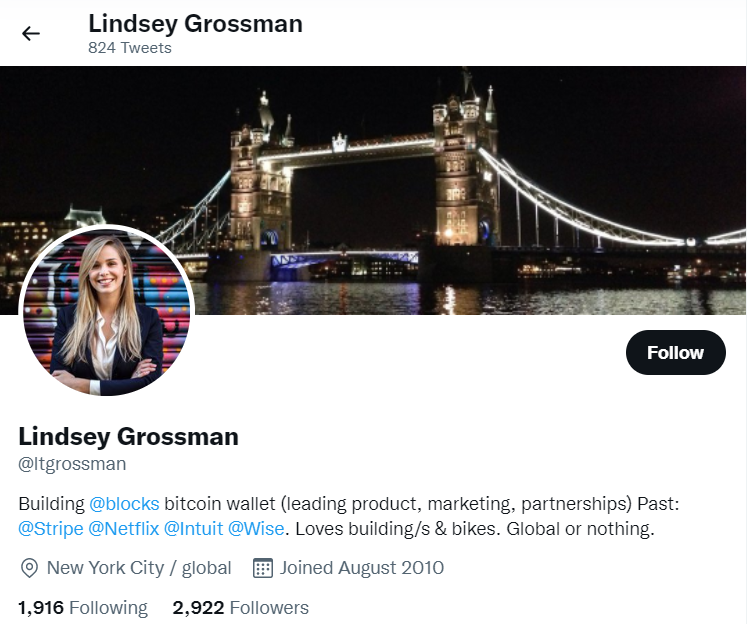 With previous roles at Stripe, Netflix, Intuit, and N26, Lindsey Grossman has been at the forefront of international product innovation. Now, her borderless mindset is being put to good use at digital payment company Block.
Head of Product, Marketing and Partnerships for Block's Bitcoin Wallet, this up-and-coming star of the crypto world will, without a doubt, be making her way onto more women in crypto lists in the future.
To stay up to date on all things crypto, like Xcoins on Facebook, follow us on Twitter and LinkedIn. Sign up today to start buying and selling cryptocurrencies instantly.